Friday, 16th
we enjoyed the
last day of lecturing with a SynCat get-together including an engaging seminar talk on sustainability given by Dr. Alexander Dauth (Merck) and an informal discussion round with pizza outside :). Also, for my CMC lecture prior to that SynCat event we had a "real" meeting for feedback and co. Really nice to see and meet up after another term of online-teaching only!!
Thursday, 24th
finally some live group meetings with plenty of croissants and fun. :)
On Wedensday, 16th we will have our 'ladies get together' of the RTG 'ion-pairs'. Make women equal partners in science and society! Therfore I woul be very happy to discuss, if we can have a WINS (women in natural sciences) group here at the UR. Looking forward to your opinions!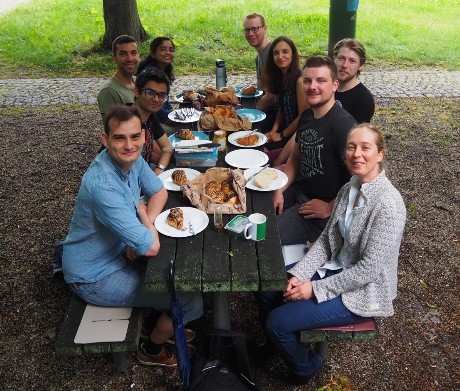 The CRC on "assembly-controlled photocatalsyis" is getting funded!!
The collbaorative research center is actually a transregio and loacted at three differnet universities (TUM, Munich, University Leipzig and the UR, Regensburg) and benefiting from the broad range of expertieses brought in by the differnet groups.