Reaction Dynamics
Reaction path bifurcations
and
non-statistical dynamic effects
- when do they occur, which methods are there to predict them, what modulates the product selectivity in such cases?
These are our guiding questions, that we follow in various projects that have carbo cations and radical cations as central intermediates.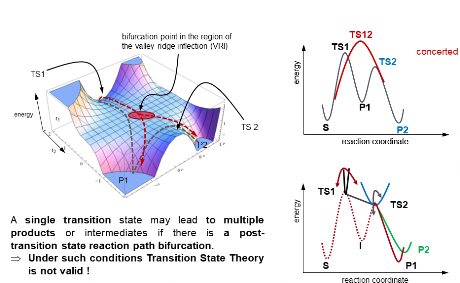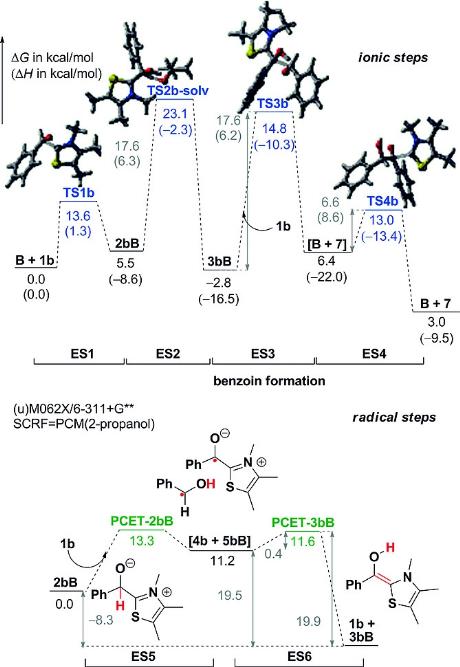 NHC-stabilized radical centers
When we first identified NHC-stabilized radical centers in the bezoin reaction, we used that observation as a lead to find out more about the unqiue ability of NHCs to stabilize open-shell structures.
Within the CRC 325 we will widen this topic to the NHC-borane complexes and see where the journey will take us.
We use EPR-spectroscopy, KIEs and computations to unravel the mechanistic details. For light-triggered processes we have our own, irradiation unit for our BRUKER EPR and a ns-UV-pump-probe set-up for studying transients.
Transition metal catalysis
Cu-photocatalysis
In recent years recognized as a potent method, despite the fact of the extremly short excited state lifetime of Cu-complexes.
Our mechanistic interest is mainly focussing on the part after the super fast photophysical processes have happened, i.e. in detail to when and how the (organic) radical formation takes place (inner vs. outersphere). These mechanisitc studies are complementing by the synthetic method development by Prof. Oliver Reiser's group.
For this project we use computational chemistry in combination with EPR featuring an irradiation unit.
Pd-catalysed oxidative Heck
-
couplings
Here we continue to rationalize the experimental observations of different product forming pathways that are opened or closed by rather subtle changes of the substrate.
The evaulation is done by in depth computational chemistry to rationaliz the experimental results obtained by the group of Prof. Oliver Reiser.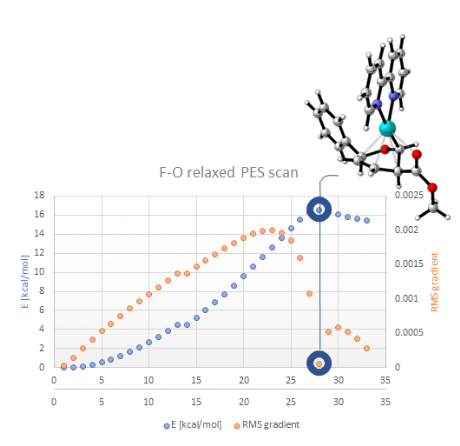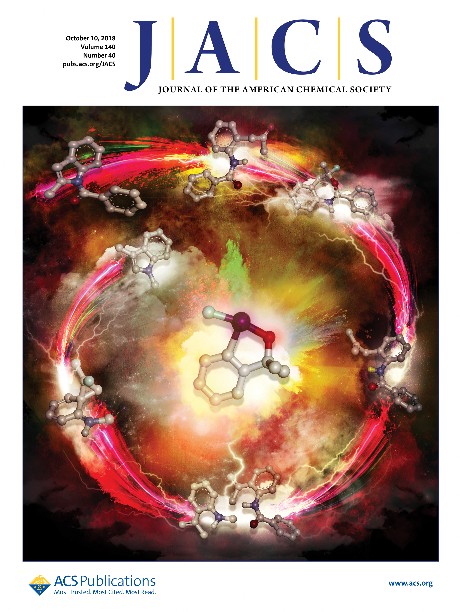 Collaborative Work
COLLABORATIONS (2021/22)
*
DFT and EPR-spectroscopic mechanistic studies

on the

light-induced Se-chemistry

with the group of Prof. Alexander Breder (UR)
our side: Patrick Hitzfeld (PhD)
*
EPR and DFT mechanistic studies
on
C
u-catalyzed glycosylations
with the group of Prof. Nina Schützenmeister (University of Vienna: link out)
our side: Hannes Sterzel (PhD)
*

EPR, UV/vis and DFT/CASSCF mechanistic studies

on
Cu-photocatalyis
with the group of Prof. Oliver Reiser (UR)
our side: Hannes Sterzel (PhD)
*

FF-MD simulations and ab initio compuational analysis

on the

counterion effects of Co-catalyzed alkene hydrogenations

with the group of Prof. Robert Wolf (UR)
our side: Daniel Schmidhuber (PhD)
*

FF-MD, CREST and DFT studies plud EPR and UV/Vis mechanistic analysis

of the cyclisation of triynes with the group of Prof. Marko Hapke (Johannes Kepler University (JKU) Linz: link out).
our side: Gülbahar Bozan (PhD) and Dr. Imon Mandal (PostDoc)
*
DFT-analysis
of
Pd-catalysed Heck-type couplings
with the group of Prof. Oliver Reiser (UR)
our side: Dominik Kreutzer (PhD) and Aryaman Pattanaik (PhD)